Paul Singleton
Rebecca Nice
Guy West
Leah Applebaum
The sketch comedy show
Mind Floss
ran at Solo Arts Group, New York in
"Paul Singleton shone in 'Puppy Love,' playing a dog transformed into a human. I've been seeing sketches were performers get laughs by acting the way dogs do; none have ever quite matches Sarah Jessica Parker [in Sylvia]. But Singleton is very funny."
– New York Post
"Mind Floss is sketch comedy for the smart set – witty, fleshed-out concepts rather than one-liners, and a performance style that recalls silent films and sophisticated British screwball comedy a la Monty Python."
–Time Out New York
"Mind Floss, an imaginative, irrelevant, intelligent and irrepressible string of stylish sketch comedies … Mind Floss pushes the guidelines of comedy based on relationships and character rather than one liners. It is comedy for people who think, read and enjoy being challenged … it could be called new wave vaudeville."
– Brooklyn Courier
"Most of this show's team members have worked together before, collecting a strong following, and this run has been extended."
– Back Stage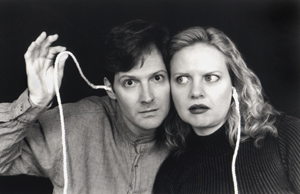 Paul Singleton
Rebecca Nice