by David M. Mead
In the 1980s, a Vietnam veteran values his close friends to point of even guarding them. When one of them is assaulted, he takes justice into his own hands – and finds it tragically difficult to draw the line, even when hunted by a detective – also a Vietnam veteran.
Directed by
Arian Blanco
Workshop Theatre Company, New York
"Set in the world of New York theatre, a brutal revenge killing is investigated…It takes one (Paul Singleton) back to the jungles of Vietnam and one into the dementia of a veteran's mind. What do you do when justice fails? On the serach for justice, what tools are unlawful?"
– PlayBill Online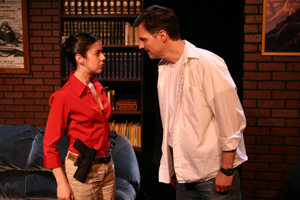 (Photos by Gerry Goodstein)